Previous events
Keystone Korner, 1350 Lancaster St, Baltimore, MD
$10-$20
Cuvee Ray, 236 Rehoboth Ave., Rehoboth Beach, DE
Wind down after an exhilarating weekend of great music at Rehoboth Beach's premier Wine Bar
No Cover
Breakfast Guru, 17 Wilmington Ave, Rehoboth Beach, DE
Rehoboth Beach's newest breakfast/brunch place!
Part of Rehoboth Beach Jazz Fest Weekend!
No Cover
"Bay Jazz Project is a true testament to the talent of the Mid-Atlantic music scene." 
Music Monthly Magazine
Energetic, dynamic, and versatile, Bay Jazz Project features some of the most exciting and experienced musicians in the Mid-Atlantic area. They play it all—jazz standards, Latin swing, R&B, Dixieland and more.  Joining Sean Lane is reed man Seth Kibel, bassist Bob Abbott, and drummer Mark Lucas. When you listen to Lane's inspired group, you can feel the connection between each of the members as they play with, around, and against each other. In addition to Lane's quartet, brass specialist, Justine Miller will sit in with the group. She brings her soulful blend of vocals and trumpet playing to the stage which leaves audiences wanting more!
The Washington Post calls Miller's music playing "Searing Hot and Superb!"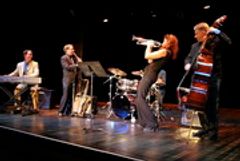 Bay Jazz Project continues to play a variety of venues that include festivals, private functions and corporate parties. Public appearances include Rams Head on Stage, Smithsonian American Art Museum, Baltimore's famous Lexington Market, 49West, Rehoboth Beach Jazz Festival, and Wine in the Woods at Merriweather Post Pavilion, to name a few. In January 2009, they had the honor of performing at the Inaugural event at the historic Willard Hotel. Comfortably playing classic jazz at an intimate setting or hitting some funky original jazz tunes at a festival, Bay Jazz Project is versatile and professional, no matter the setting.
"The musician's are first rate and interpret music with energy and passion!" 
Ruby Glover, Legendary Jazz Vocalist
For more information, fees or to join the email list, click here. 
Bay Jazz Project Photo credit: Copyright © Carrie Scheidt 2007